AVAILABLE NOW!
These beautiful XL fibre hanging baskets are 16" pot size and with mid summer growth of 24-30" wide across, they are sure to catch an eye your way!
NOTE: can ONLY be hung straight down and not on an L hook from a wall... TOO HEAVY for hook and TOO WIDE for space from wall/fence. Also, be sure hook is secured to ensure holding its weight (approx.40lbs) FULL SUN/PART SUN
Also, hanger can be removed to create the most beautiful larger urn or container arranngement already grown!
We are unfortunately we are sold out of the XL mixes but have beautiful petunia and bacopa mixes... LOTS of colour!!
16 Inch XL Basket - FULL SUN/PART SUN (Red)

LLLGC-003

16 Inch XL Basket - FULL SUN/PART SUN (Salmon)

LLLGC-003

16 Inch XL Basket - SHADE/PART SUN (Mulit-colour)

LLLGC-003

16 Inch XL Basket - 16" mixed petunia and dragon wing begonia

LLLGC-003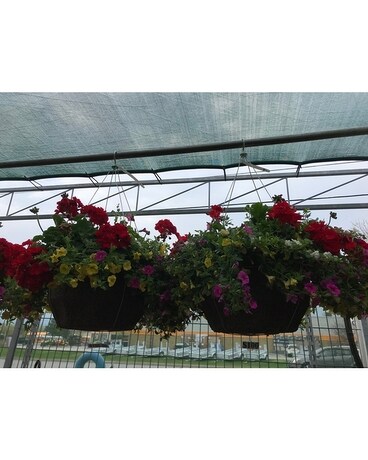 16 Inch XL Basket - FULL SUN/PART SUN (Red) - $100.00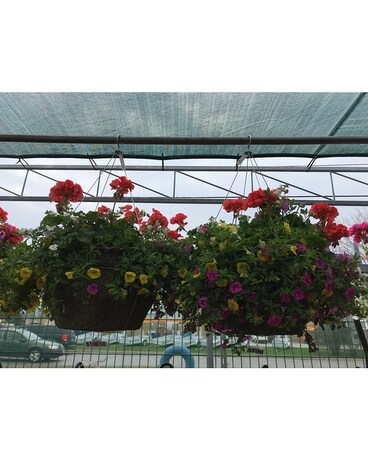 16 Inch XL Basket - FULL SUN/PART SUN (Salmon) - $100.00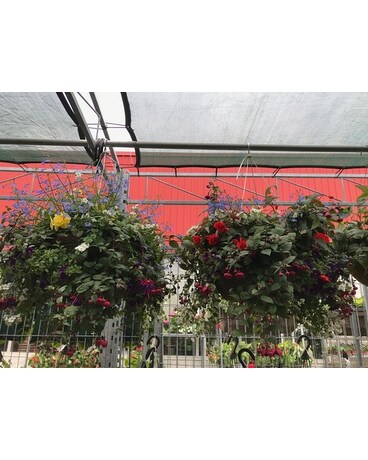 16 Inch XL Basket - SHADE/PART SUN (Mulit-colour) - $100.00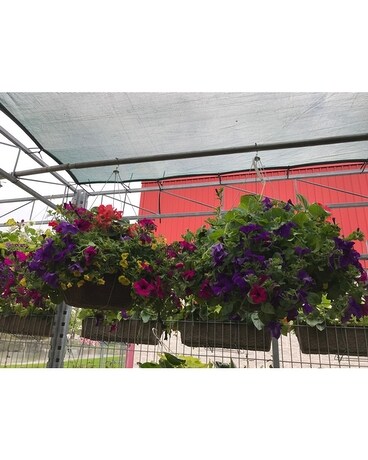 16 Inch XL Basket - 16" mixed petunia and dragon wing begonia - $100.00